Norseman 2021 is over. Seen from a medical perspective, we did have some incidents. But, for the most part, things went relatively well. Still, our medical team assessed several athletes, and we forwarded a few to more definitive care.
The weather was quite a handful. I have been the safety director for 15 years. The 2021 edition is the toughest race of them all. Sure, we had winds, cold water, rain and everything else before. Still, not in a combination like this through the race. I was there in 2005, when we decided to close the mountains. In 2021 the conditions were worse. Still, we didn't close the mountains. So why did we chose to let the athletes swim in rough water, and let the mount Gaustatoppen be permitted even when there was heavy wind, fog and rain?
Because it isn't due to luck that it all went well.
It is because we are prepared. It is because we have a fabulous team of dedicated people. It is because we have planned the event, evaluated it, and improved it to be better year by year. It is not pure luck.
To give you some insight, let me provide a peek into how we work. The days leading up to Norseman had a perfect framing. Beautiful weather, warm water and a lovely mix of athletes, locals and crew. Few hours before the race start, the winds became gradually stronger. I measured and monitored temperature, humidity, wind speed and wind direction every 30min with our professional and calibrated weather stations. We discussed the conditions with locals, went out to the swim start to evaluate, and monitored the conditions continuously. Finally, we assembled our race director team to assess and determine a Go or No-Go for the swim. This team is preplanned to be assembeled if any serious incidents occurs or some other unfortnuate incidents are developing. The team consists of Torill (Race Director), Kalle (assistant Race Director), Jonny (assistant Safety Director) and me (Safety Director).
Our plan was to evaluate throughout the night, and Torill and I would make the final decision outside the ferry at 0345. In time before the ferry went out with the athletes. Then we could easily inform the athletes at the ferry. But here is the good part. If he had decided to cancel the swim, we already know exactly what to do. We have planned different scenarios for altered swims in detail.
We didn't cancel the swim. The wind was quite strong, around 8-10 meters per second. But we have a strong crew, with kayakers, Red Cross and medics. And we have several options available to ensure safety for the athletes.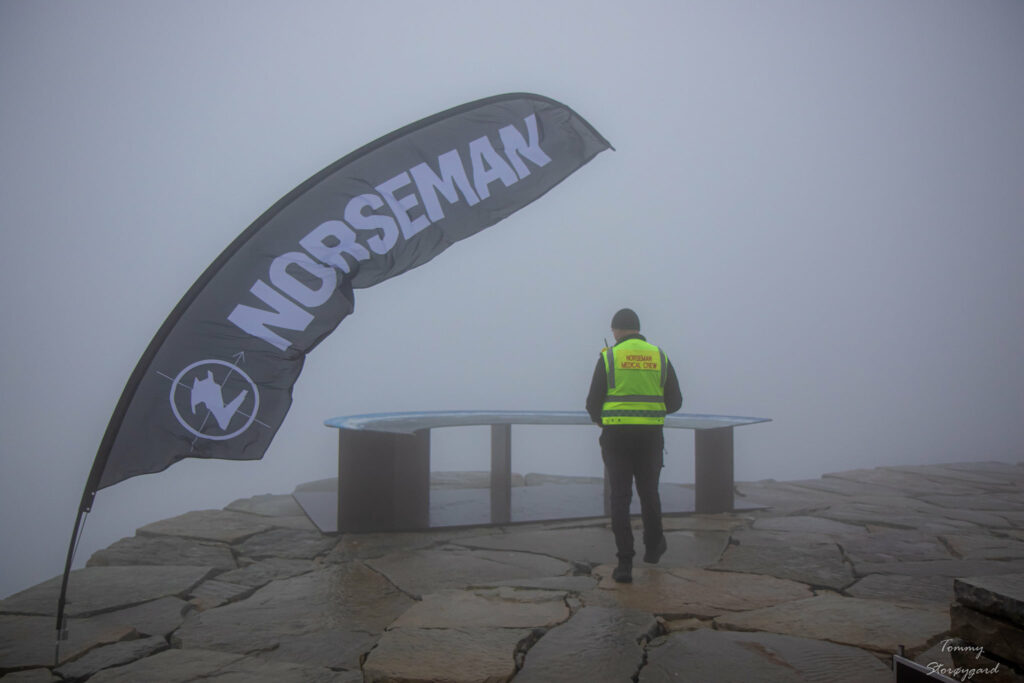 Gaustatoppen was windy, foggy and rainy. We discussed the closure of the mountain several times during the day. We concluded it was well within the limits of safety. The locals are invaluable when decisions like this have to be addressed. We rely heavily on their experience with the mountain. We also have plans to tackle bad weather conditions and reorganize the race if the mountain has to be closed. One small but essential safety measure is that the athletes have to carry a backpack with dry clothes and other necessities if sudden bad weather occurs. The wind at Mt.Gaustatoppen was around 15mps at the finishline, with gusts up to 25. Add to that fog, rain and near-freezing temperatures, the last part of the race was quite challenging for the athletes. Inside the mountain, we set up a small field hospital suited to handle minor or severe incidents if they occur. Add up all our preparations and knowledge, we decided that there was no need to close the mountain.
So you still believe that everything went well due to pure luck? Not at all. It is due to proper planning and a skilled crew. Can we do it better? Yes, we can! We constantly improve.
Jørgen Melau
Safety Director Norseman Xtreme Triathlon